The Body Rejuvenation Cleanse
Dr. Carolyn Dean and Delia Quigley have been working together since 1995 creating a comprehensive health program that works to heal and cleanse the human body.
Knowing that the foundation of good health depends on eating the highest quality whole foods on a daily basis, Delia and Carolyn decided to take it a step further. By exploring the diversity of healing plant life provided by nature, these two remarkable women created HaloWorks Herbal Tinctures and Homeopathic medicine. Used in conjunction with The Body Rejuvenation Cleanse, the Herbal Tinctures are designed to strengthen the immune system as you detoxify and heal the body.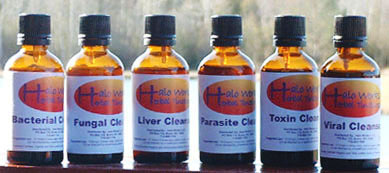 The Body Rejuvenation Cleanse Program is an extension of Delia's 20 years of teaching life transitions through yoga, whole foods cooking classes and nutritional counseling and Dr. Carolyn Dean¹s 30 years of nutritional study, medical practice and herbal/homeopathic research experience. This research has led to the development of the Halo Works¹ herbal formulas that target the hidden and underlying layers of infection and toxins in the body.
Current research shows that in one year the entire body can be rejuvenated and transformed on a cellular level. The Body Rejuvenation Cleanse Program is designed to be done throughout the year or after every holiday season when cleansing the body is most needed and beneficial. It is a program that will change your life through the experience of eating whole organic foods, nutritional education, sharing stories, receiving support from others and enjoying the discovery of new foods and recipes.